Overview:
Our scouting camera has many uses: the detection of wildlife, monitoring for unattended home and warehouse protection, the plant growth record and observation in scientific research, Safety Monitoring for bee gardens and forest farms, and other surveillance needs for outdoor/indoor.
This camera provides wide angle lens up to 120 degree. The unique patented technology of 120°wide angle lens in monitoring range is more than three times normal type, which greatly expands the monitoring and shooting scope of the object.It is designed to capture clear 12MP images and high definition 720p video at 30fps and can be triggered by sudden change of ambient temperature caused by moving game in a region of interest (ROI), which is detected by a highly sensitive Passive Infra-Red (PIR) sensor, and then take pictures or video clips automatically. The camera can operate in three different modes, including Motion Detect, Time Lapse(1,Camera: 01 photo, 02 photos, 03 photos. 2,video. 3, Camera + video), Voice recording. Our scouting camera has an impressive 1 second trigger time.Its PIR sensing angle up to 140°. When game first crosses the PIR area of the prep sensor, the camera is activated and ready to shoot after 1 second. This camera's split-second process could be as short as 0.2 second.
The Trail camera provides the following connections for external devices: USB port, SD card slot, TV out jack and external DC power in jack. The 3-way Power/Mode Switch is used to select the main operation modes: OFF, ON and TEST.The scouting camera trail camera comes with preset manufacturer settings. You can change the settings to meet your requirements.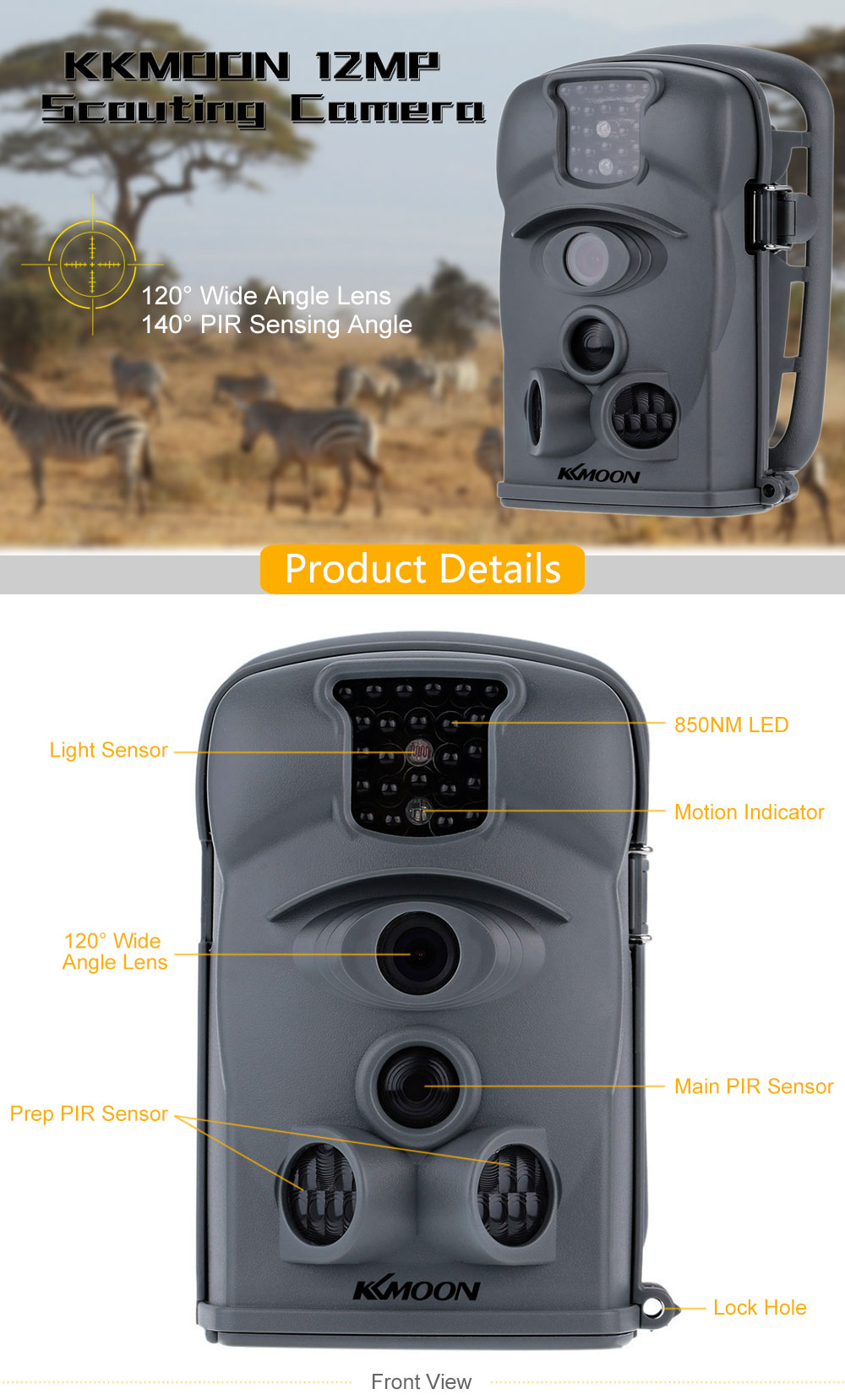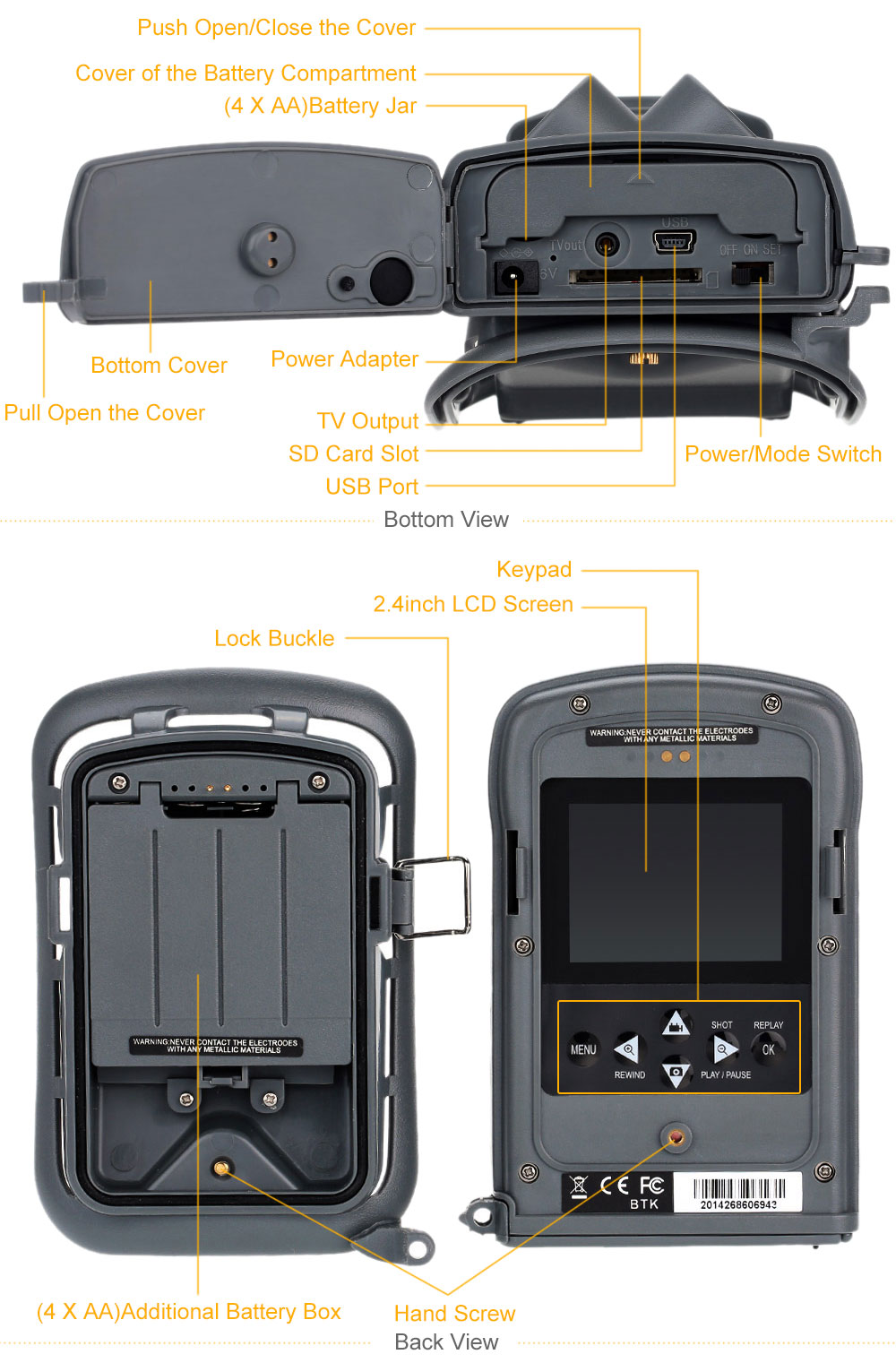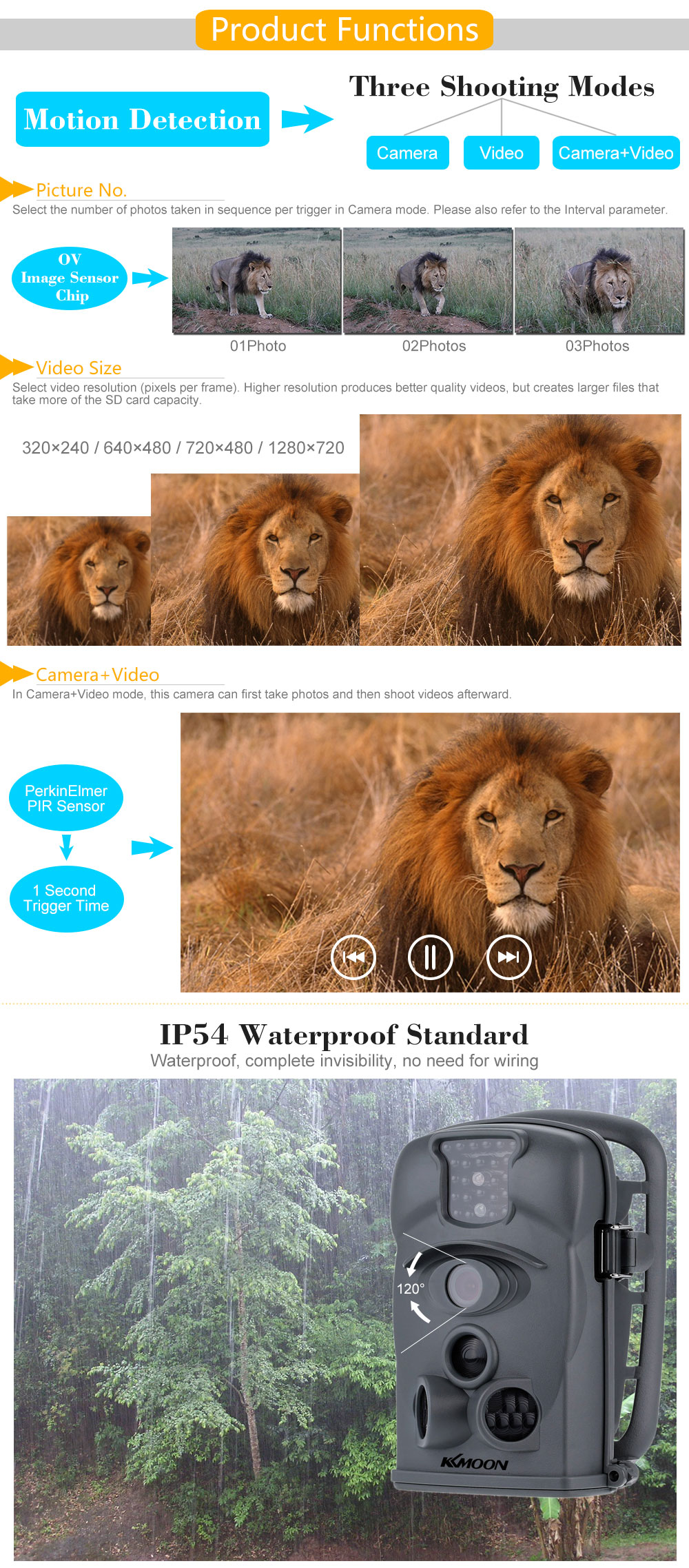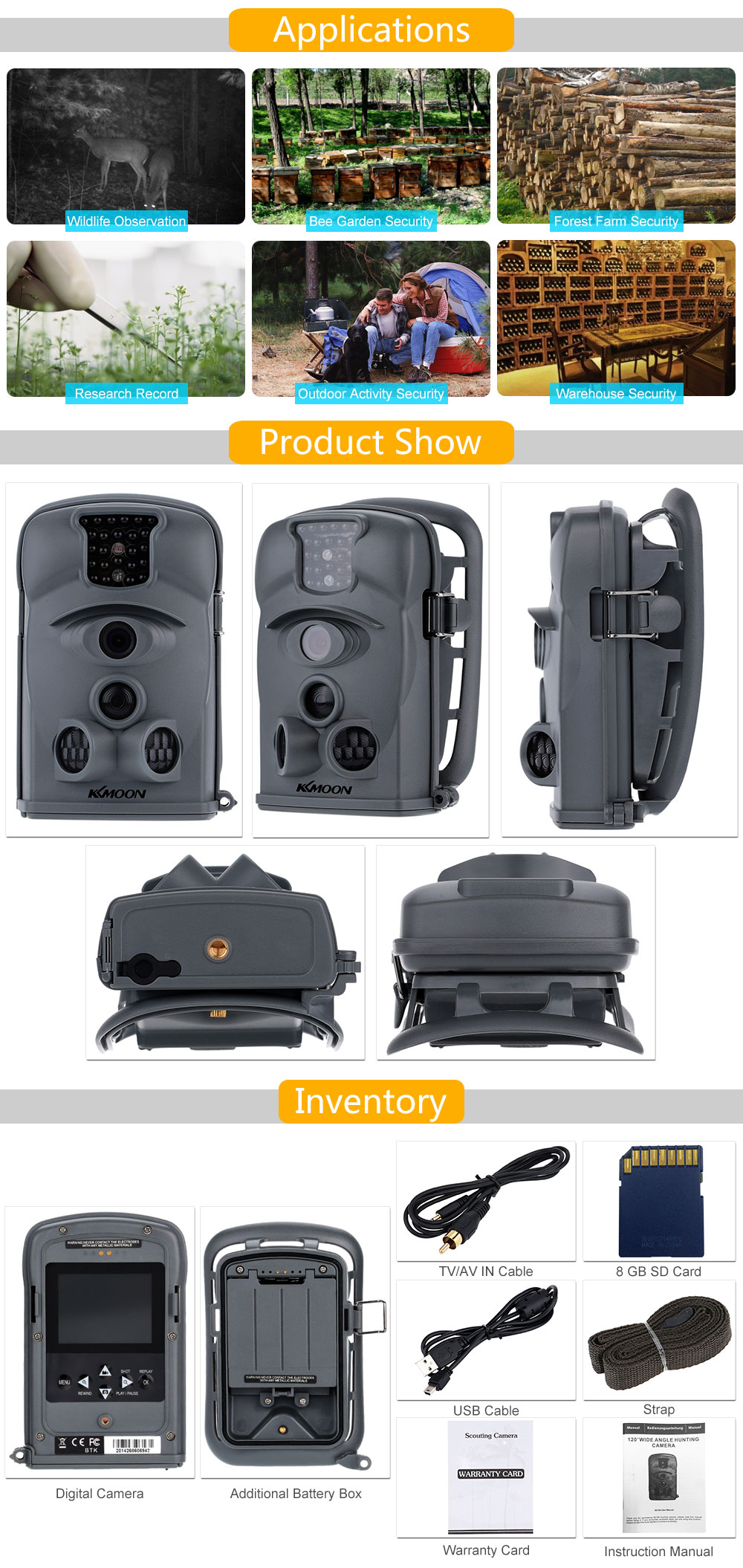 Features:
12 Mega Pixels Color CMOS.
Wide angle lens up to 120 degree.
With 15 languages to choose.
Voice recording function available.
Impressively quick trigger time(1 second).
Backpack-looking tree grabber makes mounting and aiming a snap.
Sharp and bright color pictures in daytime and clear black/white pictures at night.
Unique side prep sensor design provides wider sensing angle and enhances camera's response speed.
Ultra low standby power consumption. Extremely long in-field life (in standby mode, up to 3 months with 4 * AA batteries and 6 months with 8 * AA batteries).
Perform in the most extreme temperatures from -22°F to 158°F.
Serial Number function enables you to code locations in the photos. This helps multi-camera users identify the location when reviewing the photos.
Date, time, temperature, moon phase can be stamped in the pictures.
Lockable and password protected.
Specifications:
| | |
| --- | --- |
| Model | |
| Image Sensor | 12 Mega Pixels Color CMOS |
| Max. Pixel Size | 4000 * 3000 |
| Lens | 120°Wide Angle; F=3.1; FOV=89°; Auto IR-Cut |
| IR Flash | 65 Feet/20 Meters |
| LCD Screen | 48 * 35.69mm(2.36"); 480(RGB) * 234DOT; 16.7M Color |
| Operation Keypad | 6 Keys |
| Memory | SD Card (8MB-32GB) |
| Picture Size | 12MP=4000 * 3000; 8MP; 5MP; 3MP; 1MP |
| Video Size | 1280 * 720P; 720 * 480; 640 * 480; 320 * 240; |
| PIR Sensitivity | Night/Normal/Low |
| PIR Sensing Distance | 65ft/20m (Below 77°F/25°C at the Normal Level) |
| PIR Sensing Angle | 140° |
| Operation mode | Day/Night |
| Trigger Time | 1 Second (When using the 2G SD Card) |
| Trigger Interval | 0sec. - 60min.; Programmable |
| Shooting numbers | 1-3 |
| Video Length | 1-60sec.; Programmable |
| Camera + Video | First take picture, then video |
| Wiedergabe-Zoom In | 1-8 Times |
| Time Stamp | On/Off; Include serial no. |
| Timer | On/Off; Timer Set |
| Password | 4-Digit Numbers |
| Device Serial No. | 4 digits and 26 alphabets set by yourself |
| Time Lapse | 1 Second - 24 Hours |
| Audio | On/Off |
| Language | Enalish/Chinese/French/Norwegian/Deutsch/Spanish/Portuguese/Japanese/Russian/Suomi/Roman/Czech/Italian/Svenska/Slovak |
| Power Supply | 4 * AA; Expandable to 8 * AA(With additional battery box) |
| Stand-by Current | 0.4mA |
| Stand-by Time | 3-6 Months (4 * AA-8 * AA) |
| Auto Power Off | Auto power off in 3 minutes while no keypad controlling |
| Power Consumption | 150mA (+500mA when IRLED lights up) |
| Low Battery Alarm | 4.2-4.3V |
| Interface | TV out(NTSC); USB; SD Card Slot; 6V DC External |
| Mounting | Strap; Tripod Nail |
| Waterproof | IP54 |
| Operation Temperature | -22 to +158°F/-30 to +70°C |
| Operation Humidity | 5% - 95% |
| Certificate | FCC CE RoHS |
| Item Size | Approx. 9 * 7.7 * 13.8cm / 3.54 * 3.03 * 5.43in (L * W * H) |
| Item Weight | Approx. 249g / 8.78oz |
| Package Size | Approx. 18.4 * 12 * 8.2cm / 7.24 * 4.72 * 3.23in (L * W * H) |
| Total Weight | Approx. 457g / 16.15oz |
| Quantity | 1pcs |
| Warranty | 1 Year |
Package list:
1 * Digital Camera
1 * Additional Battery Box
1 * TV/AV IN Cable
1 * USB Cable
1 * 8 GB SD Card
1 * Strap
1 * Instruction Manual
1 * Warranty Card